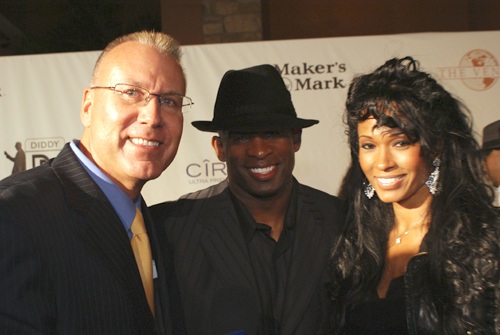 ("H" John Mejia with Deion Sanders and wife Pilar on the Red Carpet)
For Immediate Release:
St Petersburg, Florida-"The Good Life Experience" continued on Friday nite with another exciting celebrity party at the Venue Entertainment complex. Deion "Prime Time" Sanders hosted the party along with special guest co-host  Sean "Diddy" Combs. This was the second Good Life party, all part of a 3 part Super Bowl party collaboration between local  boxing legend, Winky Wright, Deion Sanders and Sean "Diddy" Combs.
Some of the celebrity guests spotted on the Red Carpet that evening: Tampa Bay Bucs WR Michael Clayton, Former Duke and NBA  Basketball player Brian Davis (who was part of the 1992 National Championship team), Rapper Tariek Williams from the Flipmode -aka-"Reek Da Villain", University of Florida QB-Tim Tebow, Deion Sanders and wife Pilar, MLB player-Gary Sheffield, TV and Movie actor-Tom Lister, former NFL RB-Ricky Waters, former Tampa Buc -Simeon Rice, Actor-Clifton Davis, Winky Wright, Playboy Playmates- Stephanie Glasson-Brooke Richards-Monica Leigh-Tyran Richard-and Stephanie Heinrich, Miami Dolphins player Chin Crater, Chicago Bears player Devin Hester and Sean "P" Diddy Combs.
In the Zone TV was back on the Red Carpet with TV host "H" John Mejia interviewing celebrities as they walked down the Red Carpet. In the Zone TV, who is producing a lifestyle magazine show called, "Good Life Tampa Bay", joined other media crews covering the event-they  included: the NFL Network, Reginald Roundtree and Heather Van Nest of Channel 10, and Sarina Fazin  of ABC Action News.
"H" John, who interviewed "P" Diddy and Deion, said, "Both Deion and Diddy really stressed that their personal meaning of the "Good Life", was all tied back to their family and friends and not from their material accumulation."
'Good Life Tampa Bay' brings you the people, places and events that are setting the lifestyle trends here in the Tampa Bay area.  Be sure to check out their website at : www.GoodLifeTampaBay.com or their TV show on WTTX  (part of the ION Media Group) here in the Tampa Bay area .
 # # #
______________________________________________________________